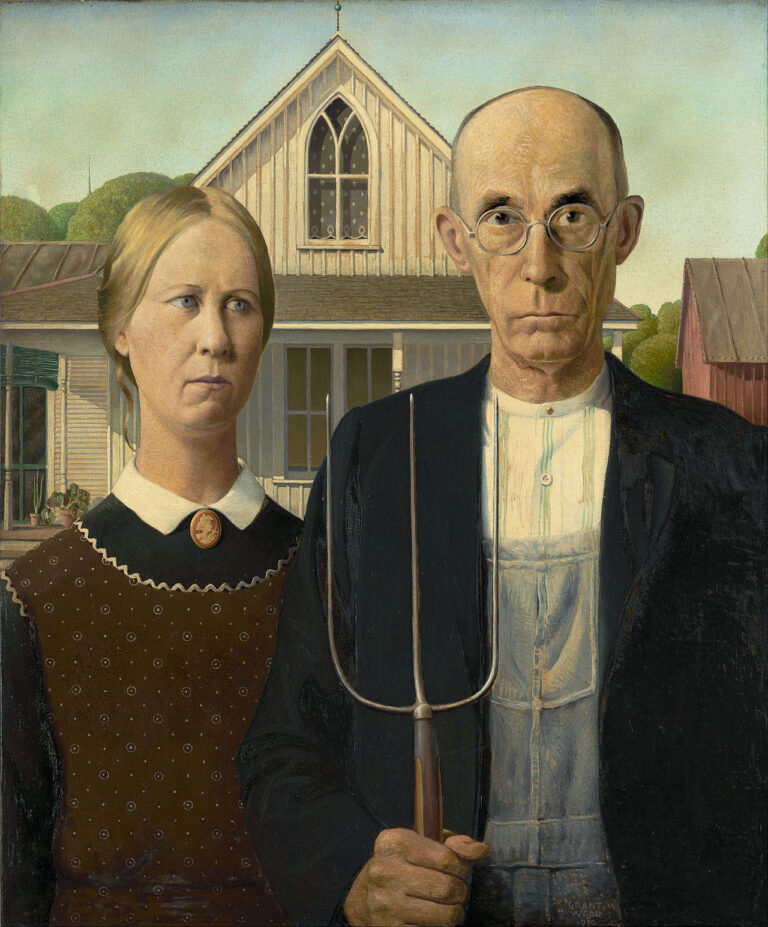 Bad Supplements: A Working List of Mislabeled Products
Healthy food was simpler in 1930, when Grant Wood painted American Gothic. At the time, healthy food came from down the road. Later, health food stores appeared with capsules made by reputable U.S. companies, with traceable ownership and offices or stores you could visit. Then came internet merchants, which at least in the beginning were sure to identify their owners and locations.
Things have changed. Today, for a large percentage of U.S. supplement consumers, product transparency and traceability has all but disappeared. Anonymous supplement sellers, often single individuals shielded by third-party platforms, are operating from unidentified locations both here and overseas. Their products are often made by unidentified manufacturers in unknown locations, using ingredients of unknown quality and sourcing.
WHO'S LISTED: Bad Supplements List represents a current documentation of mislabeled dietary supplements. The main reasons for the inclusion may include obvious errors or misrepresentations in product labeling or marketing, or clear public evidence (such as test results) of mislabeling. Bad Supplements also come from firms with repeated public offenses. Bad Supplements is a working document, and will be continuously updated.
SUPPORT US: Bad Supplements is made possible with funding and support from responsible firms in the dietary supplement industry.
Please contact us if you would like to consider supporting this effort. We accept generous contributions of funding, and any information that may indicate instances of supplement product mislabeling.
We have no financial interest in any dietary supplement firm or product. We will not accept payment for removal from Bad Supplements. We do not accept commissions or kickbacks for any products.

DISCLAIMER: Statements made by Bad Supplements are based on a reasonable interpretation of both public and confidential information. Analytical data and conclusions are cited to their source. Although we take responsibility for reviewing this information, we do not take responsibility for the accuracy of data generated by third parties. Information on this page may be updated or changed without notice. Information provided here may be incomplete or incorrect.
Requests for changes in information found in the Bad Supplements List will be considered after request from legal counsel and the review of sufficient evidence and corrective actions.
The Bad Supplements List
August 24, 2023
AMAZON ASTAXANTHIN PRODUCTS MISLABELED:
We performed a preliminary investigation into the identity of the 14 brands failing Now Foods astaxanthin potency testing… so here's a quick and dirty breakdown of the cheaters.

1. About half of the brands are not associated with a physical address 😬

And out of the ones I could find a physical address for, only one address has a building large enough to produce supplements. According to Google Maps, most brands that had a physical address were located inside an unrelated business, or a residence like an apartment or house.

2. About half of the brands have no website 😥

Those without websites only have an Amazon Seller and/or Walmart seller page with no contact information.

3. Thirteen of fourteen brands don't list the name of an owner or person responsible 😩

(Don't you hate when the "About Us" page says nothing about who's behind the brand, and the "Contact Us" page has no address or phone number? Too bad, because that's the new normal.)

4. ZERO Amazon-only Seller pages listed a person's name, business address or phone number 🙄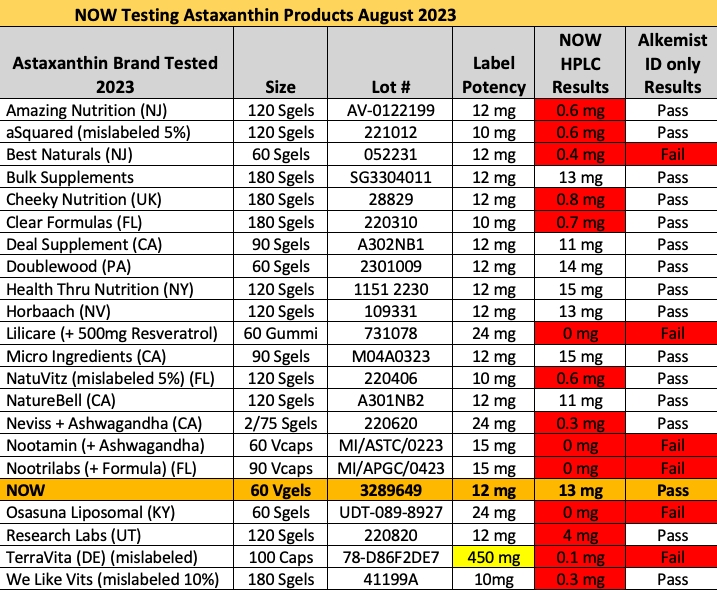 As reported in Nutraceuticals World in August 2023, 13 of 22 supplement brands tested by NOW Foods from Amazon Sellers contain less than 10% of the labeled amount of astaxanthin.
Astaxanthin is generally an expensive ingredient, and manufacturers are often interested to cut costs on testing or production when no one is looking.
AMAZON ASTAXANTHIN PRODUCT MISLABELED RESULTS, PER SERVING
Amazing Nutrition: contains 0.6 mg versus 12 mg labeled
aSquared: contains 0.6 mg versus 10 mg labeled
Best Naturals: contains 0.4 mg versus 12 mg labeled
Cheeky Nutrition: contains 0.8 mg versus 12 mg labeled
Clear Formulas: contains 0.7 mg versus 12 mg labeled
Lilicare: contains 0 mg versus 24 mg labeled
NatuVitz: contains 0.6 mg versus 10 mg labeled
Neviss: contains 0.3 mg versus 24 mg labeled
Nootamin: contains 0 mg versus 15 mg labeled
Nootrilabs: contains 0 mg versus 15 mg labeled
Osasuna: contains 0 mg versus 24 mg labeled
Research Labs: contains 4 mg versus 12 mg labeled
Terra Vita: contains 0.1 mg versus [incorrect dosage] labeled
We Like Vitamins: contains 0.3 mg versus 10 mg labeled
NOW Re-Testing for CoQ10
2022 Results found at NOW Foods website
NOW continued its award-winning industry self-policing program of testing unfamiliar brands found on Amazon and, unfortunately, the cheating continues. The program, begun in 2017, tests high value products sold by unheard of brands on Amazon at both internal and external labs, and evaluates the results compared to label claims.
NOW reexamined eight brands of CoQ10 to see if those that were identified as low potency in testing done in 2020 had improved and found the same serious problems remain for seven out of eight brands tested. Additionally, as shown below, NOW found brands cheating by misrepresenting potencies through deceptive labeling tricks.
NOW purchased three samples of each product below and tested by HPLC both internally at NOW's state-of-the-art labs and externally at the highly regarded Eurofins labs. It is apparent by looking at lot numbers and bottle types that the same manufacturer is supplying multiple brands with the same fraudulent products (see Florida brands in the chart below).
Clear Formulas, aSquared, Foxy Doc and Healthy Way brands all mislabel their product as "400mg/6%" potency. This is deceptive when the front panel says "400mg" potency and the Amazon title says "CoQ10 400mg Max Strength". The customer gets less than 24mg CoQ10 per capsule.
NOW previously tested a variety of CoQ10 brands on Amazon in 2017, 2018 & 2020 with similar failing results. aSquared, Healthy Way, NasaBe'Ahava and We Like Vitamins were all under 35% potency in 2020 as well.
Seven out of eight brands tested had less than 30% of the potency claimed
Perhaps most alarming, three of the eight brands claimed to be in vegetarian capsules, but testing both at NOW and at Eurofins confirmed gelatin was used. The failing brands are Clear Formulas, Healthy Way and Sundhed.
Amazon Brands April 2022 Size Lot # Label Claim/Cap NOW Results Eurofins Av %
⚠︎ aSquared Nutrition, FL 100 Vcaps 30465 400 mg/6% 20 mg 23.6 mg Mislabel
⚠︎ Clear Formulas, FL 200 Vcaps 30620 400 mg/6% 23 mg 23.3 mg Mislabel
⚠︎ Foxy Doc, PA 200 Vcaps 30611A 200 mg/6% 9 mg 10.9 mg Mislabel
⚠︎ Healthy Way FL 200 Vcaps 30442 200 mg/6% 11 mg 12.4 mg Mislabel
⚠︎ NasaBe'Ahava, FL 200 Vcaps 30662 200 mg 11 mg 12.1 mg 6%
NutriONN, OR 120 Vcaps CQ210710 200 mg 199 mg 198 mg 99%
⚠︎ SUNDHED, FL 60 Vcaps 30520 400 mg 21 mg 21.8 mg 5%
⚠︎ We Like Vitamins, TX 120 Vcaps CQ60050 200 mg 54 mg 53.4 mg 27%